STYLE : Traditional Wooden/12 cabins
TRIP CODE : SIGC2D
Signature Cruise, we pride ourselves on providing our high quality amenities and exceptional services to our guests and endeavor to make your stay with us as pleasurable and relaxed as possible. Our craft offers an assortment of activities including a spa and massage centre, a fully stocked bar, a magnificent roof top sun deck, daily side trips to interesting locations, relaxing Tai Chi lessons, delicious cooking demonstrations and numerous other events. Your cabin is designed for your maximum comfort and enjoyment and our crew are available to assist you with anything 24 hours a day.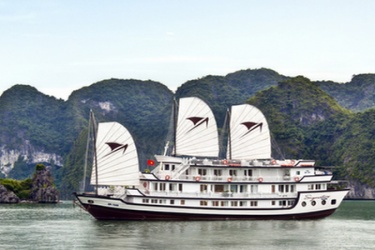 DAY 1: HANOI - HALONG BAY (L/D)
Your transfer vehicle will collect you from your hotel in Hanoi and convey you to Halong City. You will be taken on our excursion boat from the wharf and make your way out onto the bay to board our luxurious craft, Signature Cruise Halong Bay.
You will be welcomed aboard and greeted with a complimentary drink. Our Crew will conduct a compulsory safety procedures session and then you are free to check into your cabin and freshen up. Take some time to have a look around the vessel or watch the magical landscape go by.
As we begin to cruise through the bay a special lunch of fresh seafood and an assortment of appetizing favorites will be served. Dining on a luxury junk with fine food and drinks doesn't come much better than this. You won't get a better view in most restaurants around the world.
After lunch we set sail for Bai Tu Long Bay passing the towns of Hon Gai and Cam Pha, extraordinary limestone karst landscapes, Oan Lagoon, Teapot and Monster Head Islets. Explore Vung Vieng fishing village by local rowing boats or kayaks to discover the interesting daily lives of its inhabitants. Saigon Cruise Halong Bay will stay close to Hang Trong Islet for the evening.
Our Vietnamese cooking class is a great way to learn how to prepare delicious appetizers and our expert chef will guide you through the process. Dinner tonight is a scrumptious a la carte delight with a range of different options guaranteed to please everyone's palette.
Witness an unforgettable sunset over the bay and layback on the sun deck for some splendid star gazing. Relax with an exotic cocktail or whatever takes your fancy. Our bar has a wide range or wines, beers and liquors from around the world and is always a welcome sight for guests after a day on Halong Bay. Our onboard amenities and recreation activities are next to none. Try a specialized massage in our spa.
DAY 2: HALONG BAY - HANOI (B/L)
The nicest time of the day on Halong Bay is the morning. Head to the upper deck to participate in our daily Tai Chi sessions. Relax with an early morning cup of tea, coffee or juice anywhere you wish on the boat and watch the never ending miraculous scenery unfold before you.
Enjoy our buffet breakfast. It is one of the best, if not the best in the region and our guests are always satisfied. We provide a wide variety of breakfast favorites and we are sure there will be something for you no matter what your preference is.
After breakfast we board the excursion boat for a side trip to Surprise Cave (Sung Sot). The 100 stair climb is well worth the extraordinary views this grotto worn over millions of years into a lime stone karst.
Back onboard it is time to check out of your cabin as we draw closer to the mainland. After a final early lunch and a last goodbye from our crew, you will board our excursion boat and head back to the wharf where you will be met by your return trip vehicle to transfer you to Hanoi. On behalf of the Captain and crew, we sincerely hope that you enjoyed your trip with Signature Cruise Halong Bay and we look forward to your return journey.
ROOM CATEGORIES
Low Season
Double/Twin cabin
(Per person in US$)
High Season
Double/Twin cabin
(Per person in US$)
Single Surcharge 
Double/Twin cabin
(Per person in US$)
Junior Suite

169 $US

184 $US

90 $US

Senior  Suite

189 $US

204 $US

110 $US

Exclusive Family Suite (1 double bed, 1 single bed)

209 $US

224 $US

N/A

Elite Family Suite Balcony (2 double connecting rooms)

209 $US

224 $US

N/A

DAY 1: HANOI - HALONG BAY (L/D)
Make your way through the Red River Delta from Hanoi to Halong City via your transfer vehicle. Your cruise will begin with a transfer from the mainland on our excursion boat which will transport you to our main vessel, Signature Cruise Halong Bay.
Upon boarding you will be greeted by our friendly Captain and Crew and enjoy a complimentary welcome drink. After a brief introduction and safety procedures overview, you will be checked into your cabin and have some free time to relax and explore the craft.
A delicious lunch will be served in our main dining room as we slowly cruise through the magnificent limestone formations which make up Halong Bay. Feast on delicious seafood and a wide range of other delicious dishes as we make our way deeper inside Halong Bay.
In the afternoon we sail to Bai Tu Long Bay passing extraordinary limestone karst landscapes, Oan Lagoon, Teapot and Monster Head Islets, and the towns of  Hon Gai and Cam Pha. Next we head to Vung Vieng fishing village by local rowing boats or kayaks to explore the interesting daily lives of its inhabitants.
Back onboard Signature Cruise Halong Bay's main craft we will drop anchor near Hang Trong Islet for our overnight stay surrounded by incredible landscape. Our qualified chef will conduct a Vietnamese cuisine cooking demonstration and invites you all to participate in the preparation of these mouth-watering delights. Your dinner this evening will be a delectable a la carte feast with something for everyone's taste buds.
Evenings are beautiful on Halong Bay, and just because the sun goes down doesn't mean the night is over. Take advantage of our onboard facilities or just relax to your heart's content. Our professional massage and spa centre will give you the pampering you deserve after a hard day of cruising.
Relax at our fully stocked bar with an assortment of local and international favorites. Try your luck at night squid fishing, watch a film or simply relax on our roof top deck under the cover of a star filled sky. The choice is yours.
DAY 2: DISCOVERY HALONG BAY (B/L/D)
Early birds are welcome to attend sunrise Tai Chi on our upper deck and it's an excellent way to get your energy levels up for today's adventures. You will be fascinated by the exquisiteness of Halong Bay in the early hours as you enjoy a coffee, tea or juice or take a dip in the emerald waters.
As we raise our anchor we cruise past incredible sites such as Trong (Drum) cave, Trinh Nu (Virgin) cave, Coc Ngoi (Toad) Islet and more. Enjoy an amazing buffet breakfast offering an assortment of breakfast items and we are sure that you won't be disappointed. Our coffee is chosen from the best, as are our selection of fresh juices.
Next we board our excursion boat to head to Lan Ha Bay, best known for its crystal clear sandy beaches. Enjoy kayaking, swimming or just relax on a stunning secluded beach. A mouth-watering BBQ lunch will be served on the beach (weather permitting).
After lunch we continue on to the most isolated area of Lan Ha Bay near the border of The Gulf of Tonkin and explore Toi and Sang Caves. We visit a beautiful lagoon and charming fishing villages and depending on the weather and tides, kayak through an incredible tunnel under a limestone karst.
Back on board Signature Cruise, take some time to freshen up, take a nap or just relax at your leisure as we cruise to Ho Dong Tien for our overnight stay. Witness one of the most brilliant sunsets you will ever see. A special a la carte dinner will be served offering you outstanding food and quality service.
This evening is yours to enjoy whatever you please. Tonight we will hold a movie night with a selection of some of the latest release films available. We also have a selection of board games and trivia quizzes for your entertainment. Our bar is always open and is an ideal place to meet new people and share stories about your adventures.
DAY 3: HALONG BAY - HANOI (B/L)
The best time to observe Halong Bay is in the early morning and we suggest that if you didn't get to witness it yesterday that now is your last chance. Tai Chi will be conducted again today on our upper deck and is a terrific way to feel as one with the peaceful surroundings.
Our renowned buffet breakfast will be served this morning before boarding the excursion boat to visit Surprise Cave (Sung Sot). Climb 100 stairs and explore this incredible cavern with its stunning formations and magnificent views of Halong Bay and surrounding areas.
Back on our main craft it is time to check out of your cabin and enjoy the last stage of your trip with a delicious lunch as we continue to cruise back towards civilization through scenery that hasn't really changed since the discovery of Halong Bay.
After a final farewell from our staff, you will be transported back to Halong City wharf via our excursion craft for your transfer back to Hanoi. We trust you had a pleasant journey on Signature Cruise Halong Bay and hope to have the pleasure of your company with us again.  
ROOM CATEGORIES
Low Season
Double/Twin cabin
(Per person in US$)
High Season
Double/Twin cabin
(Per person in US$)
Single Surcharge 
Double/Twin cabin
(Per person in US$)
Junior Suite

279 $US

309 $US

180 $US

Senior  Suite

309 $US

339 $US

200 $US

Exclusive Family Suite (1 double bed, 1 single bed)

349 $US

379 $US

N/A

Elite Family Suite Balcony (2 double connecting rooms)

349 $US

339 $US

N/A