STYLE : private tour/ dailly day departure
TRIP CODE : HNCK1D
Getting to know the food is also a great way of learning about the country. Vietnamese food is healthy, simple to cook, delicious, and forms a large part of the culture. This half day tour gives you a hands-on lesson on how to shop for fresh ingredients and cook authentic Vietnamese food. Main Menu of cooking class, Green papaya salad (or Banana flower salad), Fried spring rolls (Vietnamese:Nem Ran), Stir fried chicken with lemon grass (or Rice noodle rolls- Hanoi style). Standard class included: pick up hotel, local expert, shopping in wet market, cooking & eating with local family, drinks (Hanoi beer, rice wine....) + Time: from 10.00 to 13.00 or 17.00 to 20.00.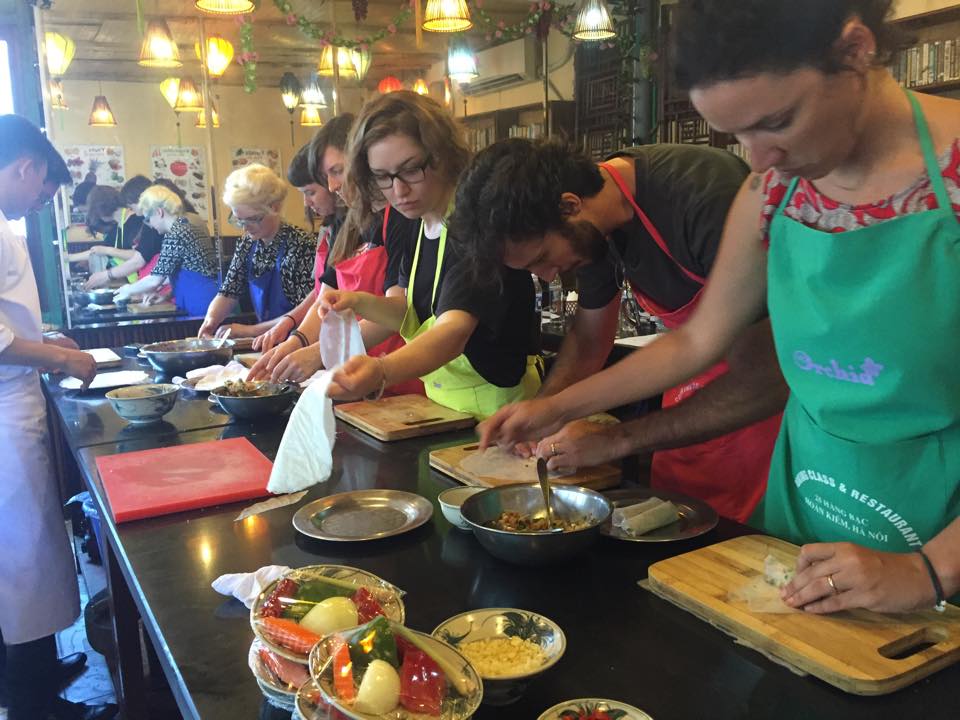 At 8.45, our tour guide will pick up at your hotel and take a walk to  outdoor  market (wet market)  with the chef. You will be fascinated with every step by the color, noise and the smells of the foods. Stroll around to visit distinct food sections with their variety of herbs, vegetables, meat and sea food which brings you very close to the simple life. It is very interesting to see and to learn how a local woman chooses and buys the best quality of the fresh food from numerous food stalls in the market. With a rattan hand basket, your job is to buy some herbs and spices for the cooking class (Herbs and spices are a very important part of authentic Vietnamese food). Raw food bought from the market will be washed and prepared quickly in the kitchen. Cooking methods and utensils will be placed properly on each table.
You will prepare and cook by yourself under the instruction of the chef from the beginning to the end, learning how to marinate and to spice will be the most crucial lesson. You will also enjoy decorating dishes with carrot flowers, lemon grass stems, banana leaves and curved chili.The authentic magical sauce mixed from fish sauce, water, sugar, lime, chili, garlic and herbs is very easy to make. Around 12.00, Have lunch with what you have cooked ( Very big portion). The chef will taste and give a reward to the best dish. After lunch, a little gift and all of the recipes from the cooking class will be given to you as you leave.
TYPE OF TOUR
YOU ARE 2 - 4 PERSON
(PER PERSON IN US $)
YOU ARE 5 - 8 PERSON
(IN US $)

Private

55 USD

45 USD