STYLE : Traditional Wooden/07 cabins
TRIP CODE : BHAPC2D
Bhaya Premium with three new boats that represent the small cruise concept. The boats feature a cosy atmosphere with a maximum of 15 passengers among 4-7 cabins per vessel. The smaller boat size emphasizes the personalized touch while exploring the emerald waters of Halong Bay. The 20 square meter Premium Balcony Cabins provide wide open space, with room for three guests, improving on the previous standard of two guests. All cabins feature a private balcony overlooking the breath-taking scenery of Halong Bay. The spacious, elegantly designed cabins with luxury interiors also offer connecting rooms for families.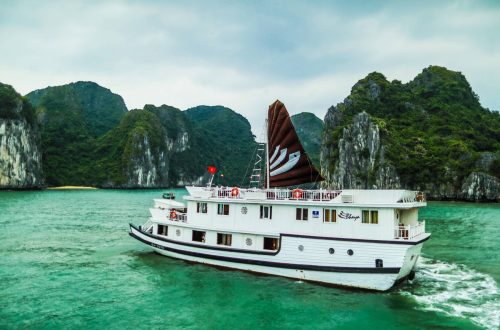 DAY 1: HANOI - HALONG BAY (L/D)
07.45 – 08.00 approx: The shuttle bus or private car pick up. Enjoy the peaceful scenery as we travel through the countryside, farmlands and Red River delta. Get your camera ready to take photos. Comfort break. The time from Hanoi to Halong bay is approximately 3 ½ hours.
12:00 Arrive to Bhaya Cruise Center at Tuan Chau Island.
12:45 Board: Welcome drinks and a quick briefing of the itinerary and safety information by our Cruise Manager.
13:00 Let the vacation begin with a lunch as the boat cruises towards South East Halong Bay, passing by Chicken Rock, Finger Islet and Frog Islet.
14:45 Arrive to Dark and Bright Lagoon and visit the area by rowboat or kayak. Kayaks can be booked in advance at reception with extra cost.
16:30 Optional: Traditional massage (chargeable), sunbathing on board or swimming around platform in Dark and Bright Lagoon.
17:00 Bar opens for the Happy Hour "Buy one get one free".
17:30 Cooking demonstration with traditional Vietnamese food on the sundeck (or in the restaurant if weather does not allow).
18:00 The boat cruises back through the bay to its overnight anchorage in Ho Dong Tien area.
19:30 Set menu dinner will be served in the restaurant.
21:00 Free time or squid fishing at reception, or relaxing at the bar.
DAY 2: HALONG BAY - HANOI (L/D)
06:15 Early start for a Tai Chi demonstration on the sundeck; tea and coffee available.
07:00 Light breakfast will be served in the restaurant untill 9 am.
07:45 Discover Surprise Cave, one of the biggest caves in Halong Bay with beautiful stalactites and stalagmites.
09:00 Back to main boat for check out: please put your baggage out to the corridor and settle your bill at reception.
09:30 Brunch will be served in the restaurant while the boat heads back to harbour.
10:30 Disembark at Tuan Chau Marina.
Transfer to minibus or private and return to Hanoi. Arrival back at your hotel approximately 16:00.
ROOM CATEGORIES
DOUBLE OR TWIN ROOM
(PER PERSON IN $US)
SINGLE ROOM
(IN $US)

Deluxe Premium 

249 $US

215 $US

Triple Suite Room

215 $US

N/A
DAY 1: HANOI - HALONG BAY (L/D)
Depart from Hanoi to Halong Bay
Noon: Check-in at Bhaya Café, Halong City.
Embark on Bhaya Legend and enjoy a welcome cocktail while slowly sailing to Bai Tu Long Bay, passing the setting for the movie Indochine, Mat Quy and Am Tich Islets. Savor a delicious fresh seafood lunch on-board.
Bhaya Legend cruises on into Vung Vieng fishing village, nestled among the limestone peaks, unaffected by ocean waves or strong winds. Visit the village by kayak or small rowing boat to see the daily lives of the locals up close.
Swim or kayak the turquoise waters. Watch the sun slowly set amid the peaks of Halong Bay while cruising to the overnight the anchorage.
Candlelit set-menu dinner onboard, retire to your cabin.
DAY 2: CYCLING TO CAT BA ISLAND (L/D)
Enjoy the sunrise, the lapping waves, the fresh sea air, the gentle breeze or get up at your leisure. A hot breakfast is available on request.
Cycling on Cat Ba Island with a tour guide if weather permits.
Bhaya Legend heads to Lan Ha Bay and Three Peach Beach for swimming, kayaking and sunbathing on a pristine, private beach. Fresh seafood lunch is served onboard.
Continue on to discover Ho Ba Ham Islet, the most remote point in Lan Ha Bay and bordering the Gulf of Tonkin. Visit its quaint fishing village and lagoon. Possibility of kayaking through an amazing tunnel under a karst mountain (Tides and weather conditions permitting).
The vessel then cruises to an overnight anchorage. Set-menu dinner and overnight onboard.
DAY 3:  HALONG BAY - HANOI (L/D)
The crew will ready the vessel to sail to a destination of your choice. Choices include: sightseeing at Sung Sot Grotto; hiking up Titop Mountain or kayaking in a hidden lagoon.
Breakfast is served onboard. Bhaya Legend returns to Halong City at 11 am. Arrive in Hanoi at 3 pm.
ROOM CATEGORIES
DOUBLE OR TWIN ROOM
(PER PERSON IN $US)
SINGLE ROOM
(IN $US)

Deluxe Premium 

 389$US

 649$US

Triple Suite Room

 339$US

N/A