STYLE : Join Group
TRIP CODE : RVPDMK8D
Saigon - Mytho - Sadec - Chaudoc - Phnompenh - Tonle Sap Lake - Siem Reap. Pandaw Cruise is the largest luxury river cruise company in Asia with six luxury ships exploring five countries. All Pandaw Cruises were newly built, designed and finished as replicas of colonial river steamers, constructed by traditional craftsmen are in themselves objects of great beauty.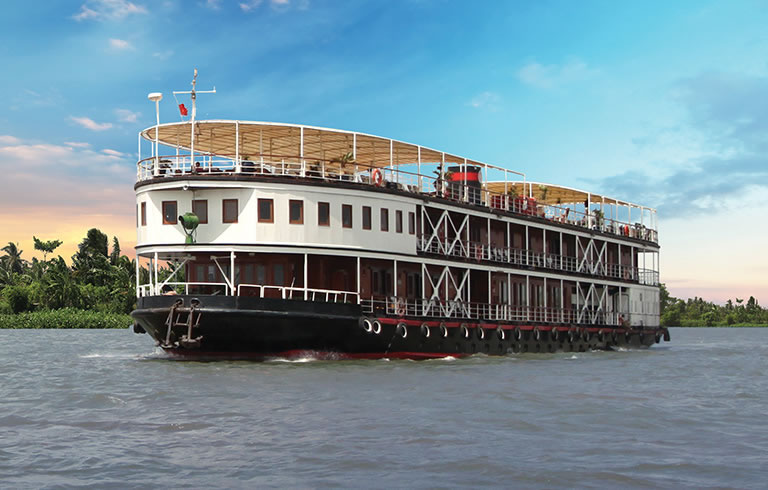 DAY 1: SAI GON - MY THO - CAI BE (L/D)
Morning transfer from the Inter Continental Asiana Saigon Hotel to the port of My Tho by coach to embark on the RV Mekong Pandaw.
Please arrive at meeting point no later than 10.00am. Transfer will depart 10.30am and embark your Pandaw vessel in time for welcome drinks, a briefing and lunch. Sail across the vast Mekong Delta. Your guide will collect your passports at the meeting point so we can arrange the immigration formalities
Moor mid-stream in Cai Be and overnight on the RV Pandaw Cruise.
Please note: between mid of February and end of March we are expecting low water levels. Alternate itinerary and excursions will apply should we not be able to reach Kratie and the river dolphins.
DAY 2: CAI BE - SA DEC (B/L/D)
Sampan boat excursion to Sa Dec via Vinh Long, along canals and backwaters and see the local market and the ancient house of Mr, HuynH Thuy Le, the 'lover' of Marguerite Duras, a famous French novelist whose book was immortalised in the film L'Indochine.
DAY 3: TAN CHAU - BORDER CROSSING (B/L/D)
Visit a Moslem Cham tribal village and a cat fish farm in Chau Doc with our guide or do your own thing and take one of our mountain bikes and explore teh local market or the Catholic Church. Return to the ship by boat for lunch and cast off for the Cambodian border for the usual formalities.
Overnight on the RV Pandaw River.
DAY 4: PHNOMPENH (B/L/D)
Whilst in Phnom Penh you will be provided with their own private cyclo. The Cyclo Centre Phnom Penh which provides the cyclos is a charity that provides basic welfare and medical services to cyclo drivers. You will visit the Royal Palace, Silver Pagoda and National Museum. In the afternoon, optional excursion (by coach) to the Killing Fields and the Khmer Rouge's grim Tuol Sleng or S21 detention centre.
DAY 5: TONLE RIVER (B/L/D)
Explorations up Tonle River to a silver making village, Kampong Trolach, and Chong Koh either by ship or by coach depending on water levels. This river is very pretty and there is a vibrant local life to be viewed along the river banks and in lesser craft.
DAY 6: KRATIE (MEKONG RIVER) (B/L/D)
Morning walk at Angkor Ban and after an all day sail through delightful Cambodian countryside we reach charming French colonial town of Kratie in the evening. No other river ships get this high but thanks to the Mekong Pandaw's shallow draft we can attempt it.
DAY 7: THE DOLPHIN GROUNDS (B/L/D)
From Kratie we go further upstream using a local bus to view the dolphin grounds in a national park protected area. In the afternoon on our return downstream we stop at a curious shrine known as the Monkey Temple on the way to moor overnight near Kampong Cham.
DAY 8: KAMPONG CHAM TO SIEM REAP (B)
Early morning coach transfer to Siem Reap. Refreshments will be provided and we will stop at Kampong Thom along the way. Arrive at Siem Reap mid-afternoon.
ROOM CATEGORIES
Low Season
Double/Twin cabin
(Per person in US$)
High Season
Double/Twin cabin
(Per person in US$)
Pandow State Room A

  USD

 USD

Pandow State Room B

 USD

 USD

Pandow State Room C

 USD

 USD