STYLE : Group or Private/Everyday
TRIP CODE : TCST1D
Highlights of tour: New itinerary, many different points, combining profound culture and amazing nature Biking to visit Bich Dong (temple in grotto), local houses, rice field, ancient villages...uniquely Use luxury limousine van with highest comfort, go by express way to save time most Small group of 16 persons/car/guide according to international travel standard Lunch at Chez Loan restaurant with goat meat specialties, French-Vietnamese ambience.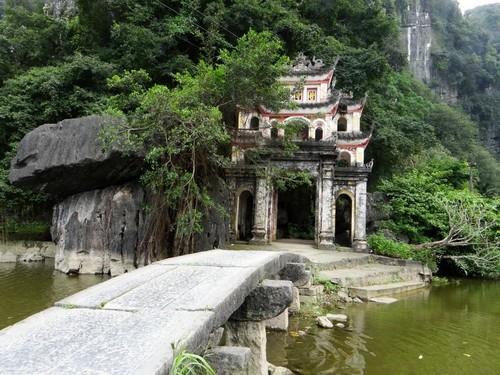 7.30 - 8.00 Tour guide and driver will pick you up at the hotel as scheduled. Use the expressway from Hanoi to Ninh Binh in comfort and time saving.
10.00: The first stop is Tam Coc town. Stay at Chez Loan, one of the most famous restaurants in Tam Coc. To take the bikes for local discover
10.15 - 12.00 If you do not want to biking, our van will take you to go to destinations (missed some local sites).
We start to visit Tam Coc - Bich Dong, local village by bike, nearly 1.5 hours. You will have the opportunity to experience the beautiful sceneries as well as the culture, the life style of the locals, the rice fields...There will be 3 stopovers in the bike ride:
The first is visiting Bich Dong Pagoda, an ancient pagoda located in the mountain cave, as known as The second greatest grotto in Northern (after Huong Pagoda).
The second stop is the Dam Khe local village, located in the middle of the village, to have a vivid image of life style in here.
The third stop is an outdoor museum (Co Vien Lau). This is a complete complex of an ancient village of Vietnamese with real houses those were collected from all the countryside in the Gulf of Tonkin.
12.15 Returning to Chez Loan Restaurant for lunch, relax or play some billiard set. At the meal, guests will have chance enjoy a specialties of Ninh Binh that is goat meat, rolled with some herbs.
13.00 - 14.45 After lunch and rest, start cruising on Tam Coc in nearly 2 hours. The hand-rowed boats will take visitors between rice fields, through three water caves (Hang Ca, Hang Hai, Hang Ba). This is where visitors have the opportunity to immerse themselves in nature here, enjoy the peaceful ambience of countryside.
15.00 Visitors will say goodbye Tam Coc to move to the historical land of Trang An - Hoa Lu, is the first place of original capital of The Grande Viet (Vietnam today). To visit, learning the antiques, historical evidences of original Vietnam in 1000 years ago.
15.20 Reaching Hoa Lu town where was the first capital of feudal nation Grande Viet located officially. Here you will visit two temples of the two kings (King Dinh and King Lee) who founded Vietnam 1000 years ago, before moving the capital to Thang Long (Hanoi today). On the way, you will pass by ancient Trang An town, is the place where the capital of Grande Viet originated.
16.00 Leaving Hoa Lu town, we will move to the Bamboo homestay that locates on a bank of river for a tea breaking. After the activities of today, visitors will be moved to a valley, located next to the river and rice paddies. Here you will have a relaxing time, enjoy the drinks while watching the sun downs. This is where visitors really enjoy themselves in the quiet living space, breathtaking the smells the countryside and immerse into the natural scenery here
17.00 Say goodbye Ninh Binh, we will return to Hanoi by expressway .
18.30 - 19.00 Back to hotel, end of trip to visit Ninh Binh in one day. We hope together with Genesis, you guys already enjoyed exploring the profound culture and history of this legendary land, as well as experience the beauty of nature here.
TYPE OF TOUR 
YOU HAVE 2 - 4 PEOPLE
(PER PERSON IN US $)
YOU HAVE 5 - 8  PEOPLE
(PER PERSON IN US $)

Premium Group

69 USD

59 USD