Futuristic and unique, the country styling beautifully harmonizes with its practical personality. Rounded edges and flush fiting surfaces contribute to a clean, simple image. For greater passenger comfort, the cabin is now wider and taller to provide best in-class comfort and convenience. The County headliner borrows passenger car technology to create a full formed, elegantly contoured surface which enhances interior elegance. Louvers are installed over each passenger seat and can be aimed precisely. Ducts are now larger for improved air flow. Powerful reading lamps make for comfortable, relaxed travel. Featuring a new and improved design, these seat belts are essential safety features and are provided as standard equipment.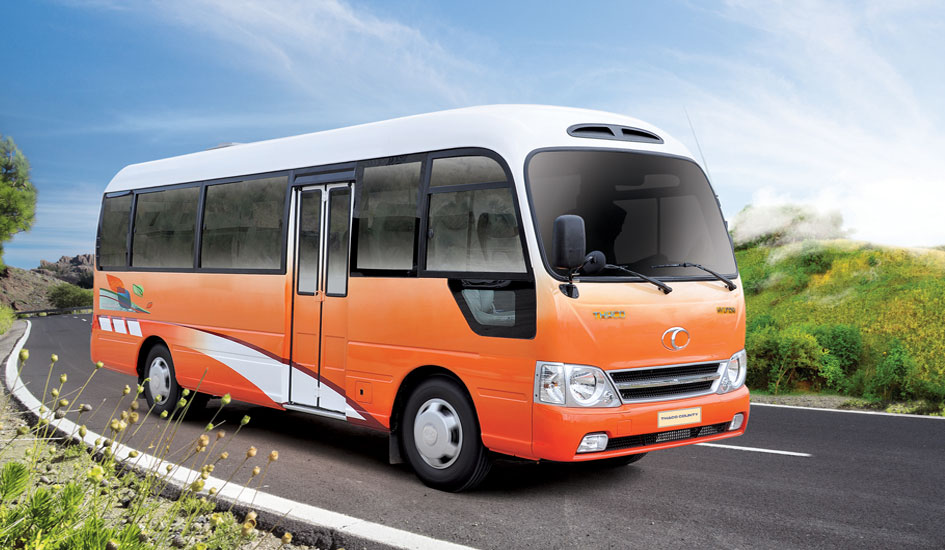 All cars, and buses are of good quality and comfortable to ensure good trips for you. Such as: All prices are quoted in US dollars.
The price includes driver, vehicle, petrol, toll and parking fee.
For overnight, driver's food and accommodation surcharge of 12 USD/day shall be applied.
The prices may change due to exchange rate or season; therefore, please confirm exact price when you make the final booking with payment. Please contact by email to have more information: info@vietnampremiertravelvietnam.com or +84 4 916554556