RATING :

LOCATION: 26-28 Tran Phu , Nha Trang, Vietnam
This property is 2 minutes walk from the beach. Centrally located on Tran Phu Street, the Sheraton Nha Trang features 6 food and beverage options, an outdoor infinity-edge pool on the 6th floor and Vietnam's first cooking school. The Sheraton's elegant rooms have sea views. Rooms also feature a sitting area, a 37-inch flat-screen TV with satellite channels and a minibar. The private bathrooms provide a separate bathtub and a rain shower. Guests can work-out at the gym or relax with a massage at the luxurious Shine Spa. The Sheraton Nha Trang also features an Adventure Club and can arrange for scuba diving and snorkeling off one of the nearby islands. A 24-hour business center is also available.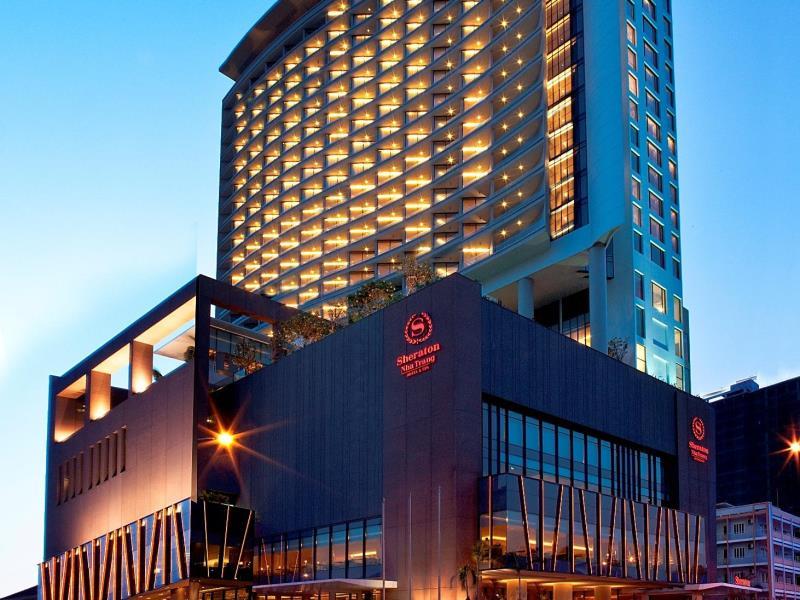 I. SHERATON NHA TRANG HOTEL'S AMENITIES
All 280 rooms boast deep soaking tubs and offer WiFi and balconies. 24-hour room service and wired Internet are standard, as are LCD TVs with satellite channels. 
Catch some rays on Sheraton Nha Trang Hotel & Spa's private white sand beach or spend the day relaxing at the full-service spa.
Then enjoy a meal at one of the hotel's 4 restaurants.
Beach
Free parking
Restaurant
Swimming pool
Business center
II. SHARETON NHA TRANG HOTEL'S ROOM TYPE
Premium Room, Ocean View
Room with view
441 square feet
1 King Bed (Extra beds available: Crib)
Room sleeps 3 guests (up to 2 children)
Executive Suite, Ocean View
Room with view
753 square feet
1 King Bed (Extra beds available: Crib)
Room sleeps 3 guests (up to 2 children)
Junior Suite, Ocean View
Room with view
527 square feet
1 King Bed (Extra beds available: Crib)
Room sleeps 3 guests (up to 2 children)
Deluxe Room, Ocean View
Room with view
355 square feet
2 Double Beds or 1 King Bed (Extra beds available: Crib)
Room sleeps 3 guests (up to 2 children)
Club Room, Ocean View
Room with view
355 square feet
2 Double Beds or 1 King Bed (Extra beds available: Crib)
Room sleeps 3 guests (up to 2 children)
III. SHERATON NHA TRANG HOTEL'S FACILITIES
12-hour business centre including Fax and Photocopying
Airline reservation service
Business equipment
Computers with Internet access for house guests
Currency exchange service
A large selection of International and local newspapers and magazines
24 Hours room service
Small Meeting and function space
Travel and tour information, booking and confirmation services for travel and accommodation along with visa extension services
Worldwide courier service
TYPE OF ROOM
DOUBLE OR TWIN ROOM
(PER ROOM IN US $)
SINGLE SIPPLEMENT
(PER TOOM IN US $))
Premier Ocean View

USD

USD

Executive Ocean View

USD

USD

Junior Suite Ocean View

USD

USD

Deluxe Room Ocean View

USD

USD

Club Room Ocean View

USD

USD
IV. ONLINE BOOKING ROOM RATE
All Promotional rates are inclusive of 5% service charge, but exclusive of 10% tax
Breakfast is included in the room rate & served at our Essence Cafe restaurant
Check-in time is at 14.00. Earlier check-in is allowed with no surcharge, provided that the room is available.
Check-out time is at 12.00 noon
Payments made by Master, Visa or Traveler`s Cheque is surcharged 3%
Promotion rate must be guaranteed, non-changeable and non-refundable