Sapa when the rice season is ripe – Sapa trekking tours – Vietnam Premier Travel – Sapa slepping on train, Sapa sleep at the Homestay.
Highlight of Sapa when the rice season is ripe
Sapa has long been an indispensable destination for all travelers when present in Vietnam.
Possessing many preeminent points such as people, culture and especially landscapes.
With 4 changing seasons a day made visitors go from surprise to surprise. Early in the morning, when the fog spread everywhere, a little drizzle brought the cold.
When the sun rises, when Sapa wakes up, every tree is delicious and the people are full of life.
Afternoon is a gentle Sapa, slightly cowered in the breeze bringing cold. And at night is when Sapa falls down, the tourists huddle in the cold, sip the corn grilled, sip warm tea and listen to crickets and the whisper of the night.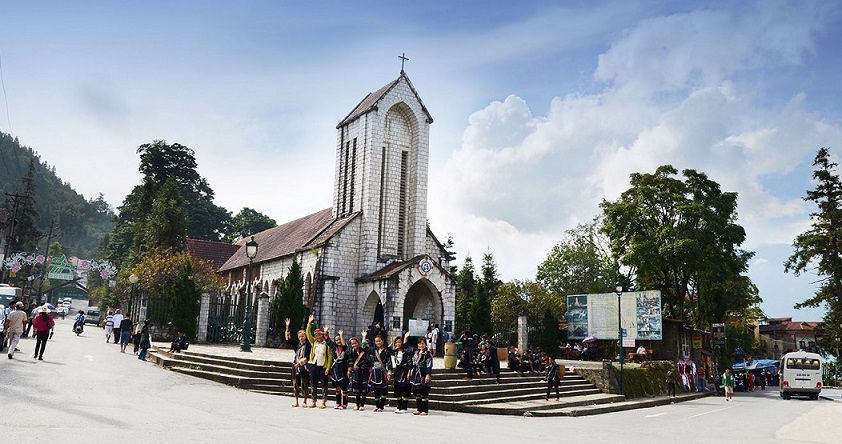 What is the best season?
It cannot be determined because coming here is always beautiful in any season.
When the water falls, Sapa looks like a giant mirror that reflects the sky and earth here. When ethnic people take water from above, pour it into small plots after the harvest season.
The fields are soaked after a season of dedication and round the rice fields. It's time when the soil is full and juicy, when it is resting to prepare for a new crop.
September, October about when the hills are covered with a brilliant yellow, the aroma of ripe rice.
From December to the end of February is the icy season here, a white covering the hills. As a compensation, this is also the time when peach buds fluttering everywhere.

Other destinations
Sapa Market is a place of business and meeting for boys. Where visitors can choose for themselves the handmade pawn products like that.
Stone Church is also an equally attractive destination, considered the first church here when the French come here and choose to be the resort every summer.
Cat Cat, Ta Van or Lao Chai villages are the places with the most beautiful terraced fields. In addition, this place is like a living museum, where preserves intangible cultural values. A place of warm, friendly and extremely simple and simple life.