More information about Genesis Regal Cruises – Halong Bay Cruises – Vietnam Premier Travel – Halong Bay overnight on cruises – Halong Bay 2 days 1 night.
How to know more information about Genesis Regal Cruises
Drawing on years of experience, this 5-star vessel has been designed on the basis of pre-existing ships. However, the sharpness in each line and excellent service from the reception from the hotel to the end of the journey to explore Lan Ha Bay in 2 days 1 night.
In addition, during their stay here, visitors get more than what they spend. That is:
The bedroom is modern, luxurious and warm
– With a total of 20 rooms, the smallest area is up to 35 m2.
– All rooms have separate balconies, a 1 tea table and 2 recliner.
– From inside the room, visitors will be able to see the room wide open. When the boat moves on Lan Ha Bay, the whole space is rotated, visitors can completely live in the beautiful nature that is extremely quiet.
– And an extremely great highlight in the room is the bathtub. With both vertical and vertical tubs, the hot water is available 24/7. Guests will enjoy a quiet time, relaxing, when just soaking in the warm water, just watching Lan Ha Bay right here.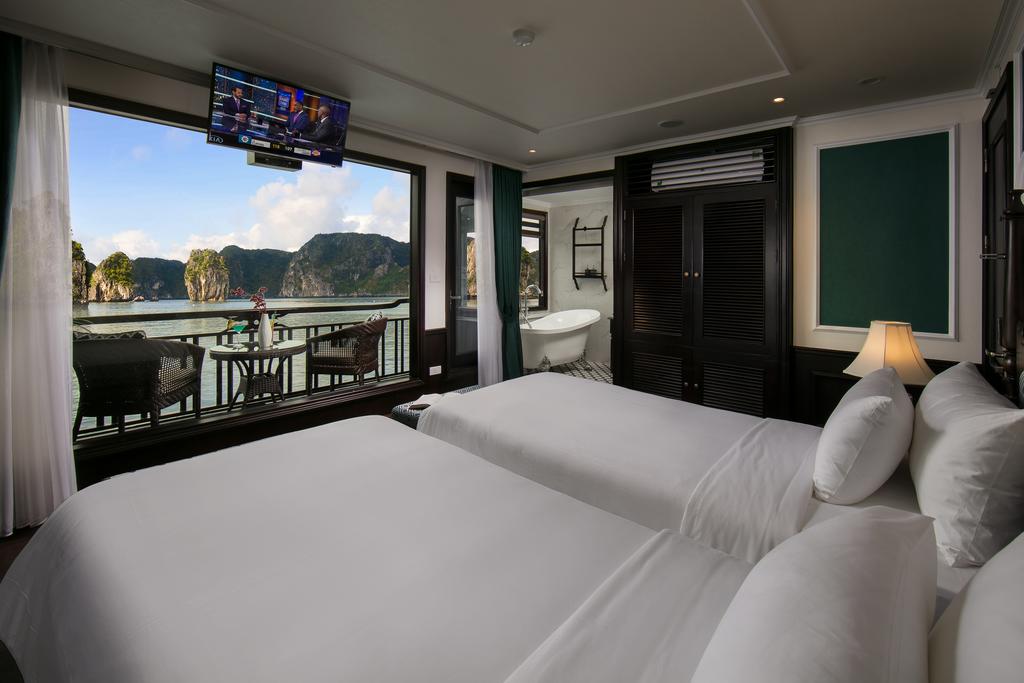 The reception is polite, friendly, free information
All the staff are fluent in English and are trained to bring absolute satisfaction to visitors.
Designed to bring intimacy, waiting tables and chairs with fresh flowers, tea, candy. It is also a space for visitors to relax, read a book or chat with new friends.
The restaurant is luxurious, sophisticated and beautiful
For optimal privacy, the restaurant has different table styles with different sizes. Can sit 2 people creating privacy, most comfortable. Or connecting family members or friends, Genesis Regal will optimize all spaces for visitors.
The delicious, clean and fresh dishes are the top criteria that the kitchen staff and staff aim for.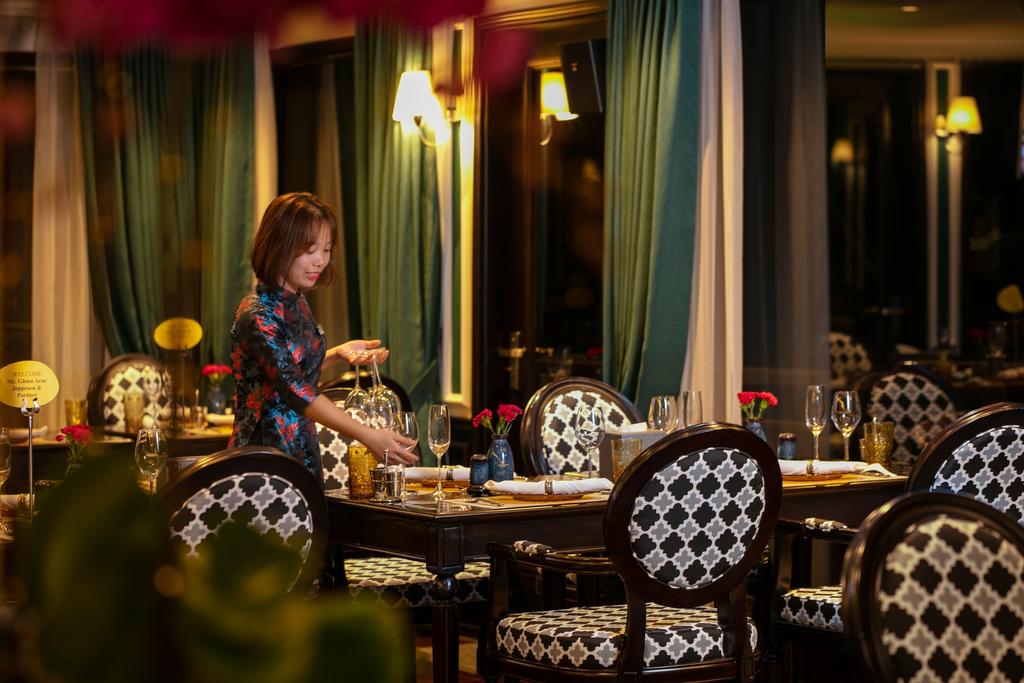 Sundeck and absolute relaxation
Located at the top position, with many reclining chairs, cushions and umbrellas will give every visitor absolute relaxation. And the cool cocktails with melodious music will bring visitors to a completely different world. One side is a majestic mountain scenery, one side is a gentle pat on the side of the ship and you.
Come to Ha Long in general and a Lan Ha Bay in particular, the 5-star Genesis Regal will bring you a completely different journey for 2 days 1 night.