Is it worth visiting Ha Long Bay – Halong Bay Cruises – Vietnam Premier Travel – Halong Bay overnight on boat, do kayaking/bamboo boat.
How to know Is it worth visiting Ha Long Bay?
There is no trip in Northern Vietnam where visitors have the opportunity to spend the night at sea. Only option is to go to Ha Long Bay or Lan Ha Bay and be satisfied with that.
With a 2-day or 3-day program, visitors outside the time to visit the beautiful scenery on the Bay but also many experiences only here.
Is there anything special to attract?
Over millions of years of geological and geomorphological changes have created a unique Halong Bay in the world. There are thousands of large and small rocky islands, towering peaks and many different types of plants and animals.
Where 500 million years have passed, limestone is eroded by tropical rain and climate change. With more than 1900 small islands, sometimes dense forests or hollow islands, there are places with hanging lakes or submerged islands forming frog mouths, etc.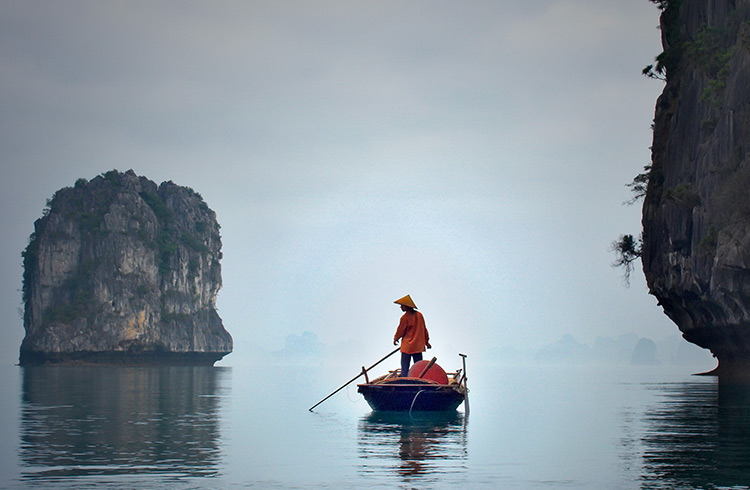 If you prefer quiet and solitary space, there's such service here. Alone with a private boat, a chef and crew are available 24 hours a day. Guests will be served from a to z such as: Eat 4 meals, hot and cold water, private room with air conditioning. And most important is an extremely peaceful and quiet space. Visitors are immersed in the romance when the sun shines gradually after the cliffs with many beautiful shapes. And at night is a peaceful space, squid fishing and listening to the gentle waves of the boat.
Or visitors can take a group tour, usually there are about 30 to 40 guests a group.
This is considered the most popular Halong Bay tour, ranging from 125 to 200 USD per person for 2 days 1 night.
What about 2 days 1 night?
Tourists can depart from Tuan Chau wharf or from Hanoi Old Quarter. There will be a shuttle and drop off at your hotel, just over 2 hours on the move. Guests are on board and start the journey to explore Ha Long Bay.
When you step on the train, it will be a warm atmosphere like the family welcoming you. Serving a delicious lunch with many fresh, beautiful seafood dishes.
Then there's your bedroom, depending on the type of train you choose but each has. It was a warm, cozy, air-conditioned room with hot water and other essentials in the room.
When afternoon comes, visitors will have more experiences such as kayaking, visiting caves, floating houses or swimming.
Evening is probably the best thing, because there you will be free to sing, dance and bartender skillfully.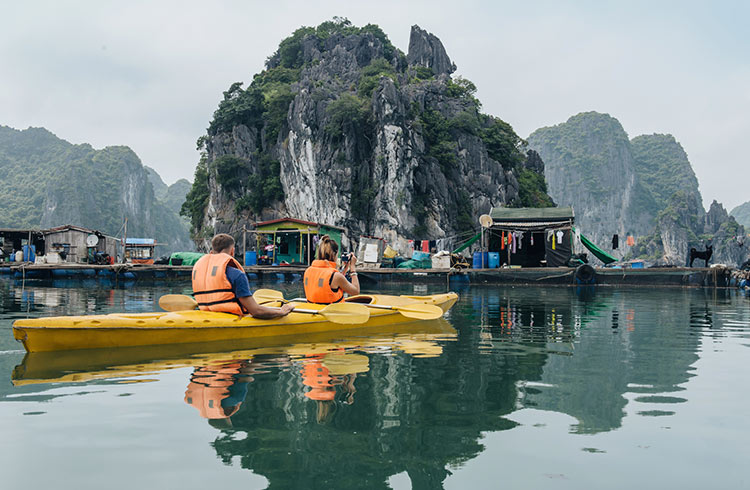 What else is left on the cruises?
Visit Cat Ba Island
Cat Ba is located in Hai Phong, but it has an intimate relationship after guests finish the tour to visit Ha Long Bay.
Visitors here can choose bicycles or motorbikes to move, visit Hospital Cave, fishing village or Monkey Island.
Spend a day trekking to visit Cat Ba forest, which has abundant flora and fauna and is listed in the Red Book of the World.
Explore Lan Ha Bay
Different from Ha Long Bay because this place is still new, less polluted and very few tourists.
If lucky, in the peaceful and quiet time, visitors can see Cat Ba langurs. This is considered a safe place of residence and habitat for this species, the most endangered species seen only here.
You can reading more information about Halong Bay crusies ,please click here: https://vietnampremiertravel.com/tours/halong-bay/ –