How to know Halong Bay before go to visit – Vietnam Premier Travel – Overnight on crusies, do kayaking/bamboo boat. Visit Sung Sot cave, Luon cave.
Known as "the place the dragon lands", there are more than 3,000 islands large and small scattered throughout the Bay. Stretching from Quang Ninh Province to Hai Phong on an area of thousands of hectares of sea surface.
And there are many visitors who favorably call the emerald between immense sky and mountains.
Highlight of how to know Halong Bay before go to visit?
According to the scientists' research, Ha Long Bay in general and Lan Ha Bay in particular is essentially an ancient coral reef. Over millions of years, it changed from a stretch stretching from China's Guilin region to as far as Krabi island in southern Thailand. It has left on this earth a masterpiece that surprised thousands, millions of visitors from all over the world. The main thing that 2 times UNESCO is recognized as a natural heritage of the world.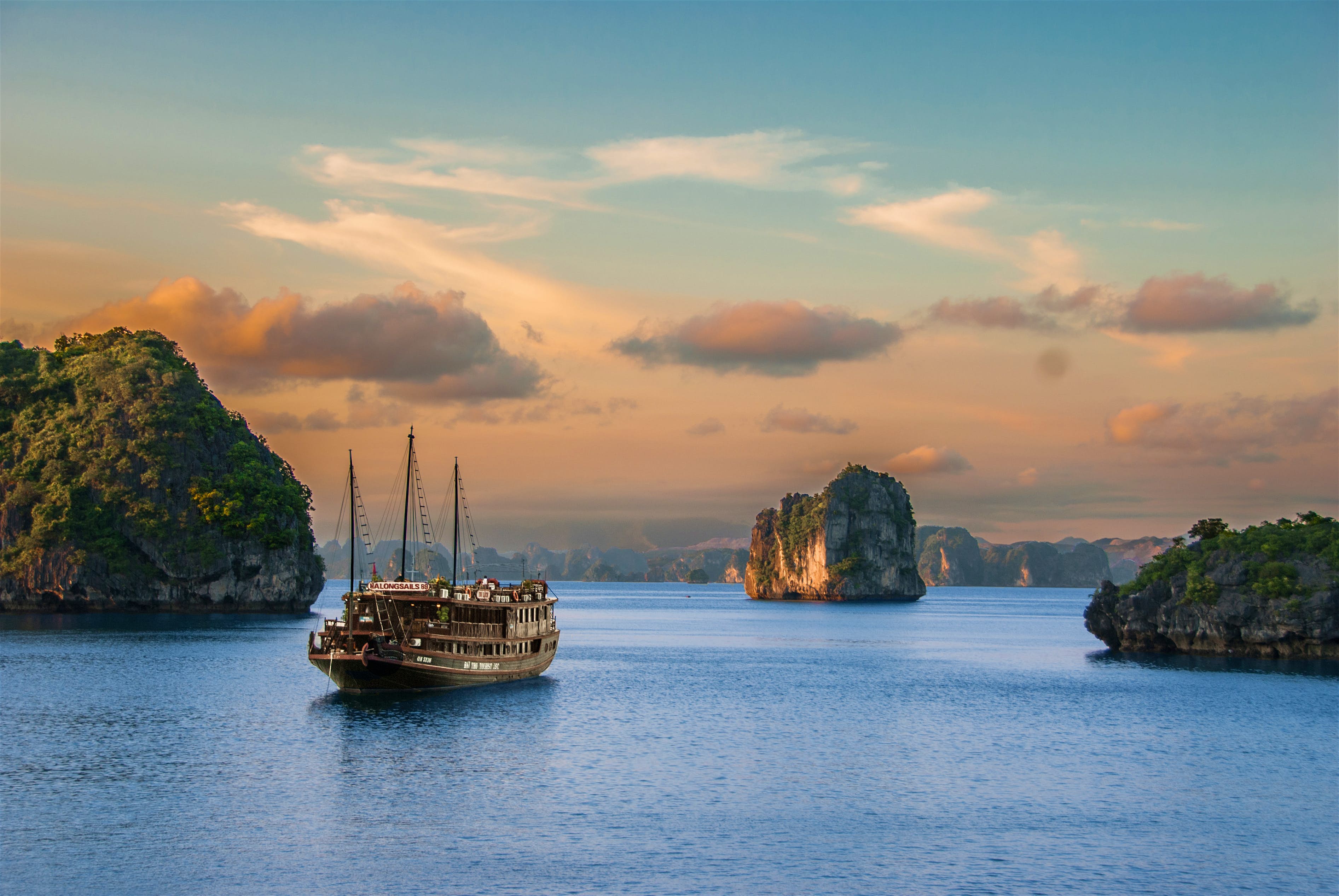 The best way for traveler explore
First of all is the shuttle bus, most will have a shuttle bus to Hanoi and return to the hotel in Hanoi. Always the latest generation cars, creating the most comfortable, most comfortable. The important thing is that we travel on the highway, the time will be shortened to only 2h30 minutes only.
The next important thing to keep in mind is that you should go on a group tour, either small or large, but not on your own. And there are also many choices that suit your budget
The most interesting experience and one of the things to do is kayaking on the Bay. Do not miss any chance to experience when coming here, it is visiting caves, hiking or cycling, visiting floating villages, etc.
How many day should staying there?
3 days 2 nights, considered to be one of the most relaxing trips, by the day we go and return we have almost 1 day to move. Therefore, 2 counting sleeps on the boat will make you have the most relaxing time, most comfortable and fully enjoy what we will bring.
You will have time to kayaking, swimming, visiting caves, cycling and many other experiences.
Or sometimes after a count of relaxing on the boat, visitors will want to move to Cat Ba Island. And there, you will get a panoramic view of Cat Ba Island and Halong Bay from the Fortress of the Gong.
2 days 1 night, for those who have little time but still want to go to Ha Long and spend 1 night on a boat. And is also a popular choice for most visitors to come here.
There is still plenty of time for visitors to visit the cave and visit the most beautiful sayings of the Bay. And kayaking is one of the important highlights that any visitor coming here wants to try.
Tap Taichi the next morning, learn to cook on the deck, eat the most delicious shairvaf from many other delicacies.