Have an appointment with Tam Coc – Day Tours – Vietnam Premier Travel – Do cycling /Bamboo boat visit Trang An, Bai Dinh.
Highlight of have an appointment with Tam Coc
Summer is coming and April is about green fields in Ninh Binh. Winding along the Ngo Dong River, the rice paddies begin to change color from green to yellow beautifully. A colorful picture makes the beauty that nature favors Ninh Binh land.
About 7km from Ninh Binh city, belonging to Ninh Hai district, Hoa Lu district. To visit Tam Coc means three caves: Hang Ca, Hang Hai and Hang Ba. Visitors who want to visit these 3 caves need to board a bamboo boat, bobbing on the Ngo Dong river, through the fluttering rice fields when green and yellow.
Rice fields were planted at the foot of towering limestone mountains, but there was only one crop a year. Because there are 2 seasons in Tam Coc: dry season and flood season. When the water rises and floods the cave shops, people cannot go through to harvest rice, so there is only one crop.
Ripe rice usually lasts from May to early June, for about 2 weeks. And this is also said to be the best time in Tam Coc so visitors can catch the best moments.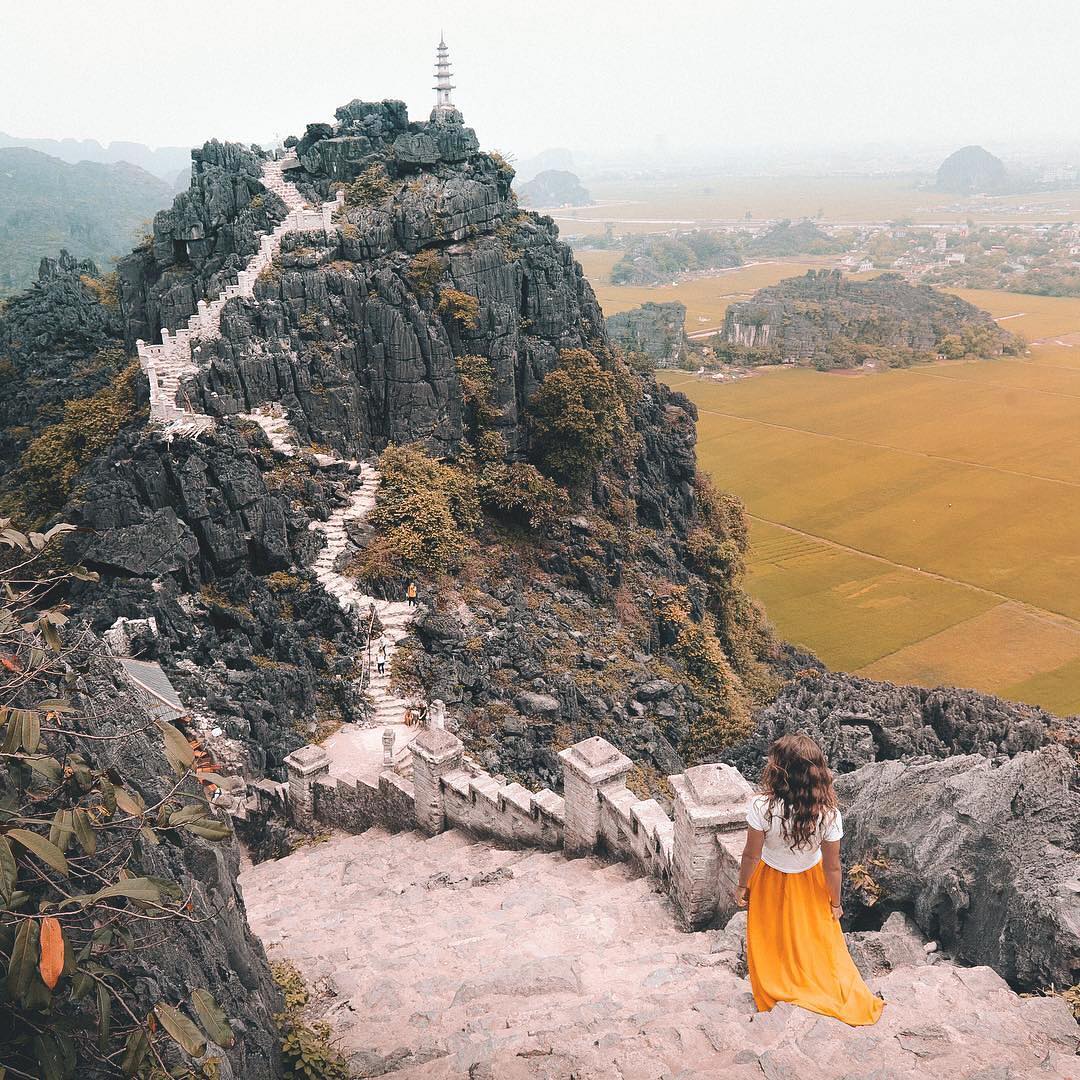 Fragrant ripe rice season
The lovely yellow color makes couples come here to take the most beautiful wedding photos in the golden light of the ripe rice season. Yellow is like being carpeted all over the mountains, painted with the same color of nature, sky and clouds. The strong smell, the sweet honey of ripe rice makes everyone fall in love with it and sink into it.
Hop on a bamboo boat floating on the Ngo Dong River to go through the mountain. Inside are stalactites hanging down from the ceiling of the cave carrying cool air.
The new fragrance of rice along the wind flows through the cliffs, the sound of birds lining from the mountains makes the space very special.
There are other attractive destinations in Ninh Binh
Mua Cave is considered to be the most ideal place to see all of Tam Coc in the ripe rice season. To climb up here, travelers should choose the best early in the morning. Prepare soft and firm shoes, take a small bottle of water and start climbing up over 1,000 stone steps and then to the top of the mountain.
Indeed, visitors will not be in vain when everything opens up in front of their eyes. The boats were as far away as the leaves of bamboo thrown on the water, flanked by golden rice fields fluttering in the wind.