Ban Gioc waterfall in pouring season – The North of Vietnam tours – Vietnam Premier Travel – The North of Vietnam tour package.
Highlight of Ban Gioc waterfall in pouring season
The water season here is considered the best time to see the grandeur of this waterfall. Located in Trung Khanh district, Cao Bang and about 400 km from Hanoi to the Northeast.
This waterfall is owned by both Vietnam and China, is one of the most beautiful border waterfalls.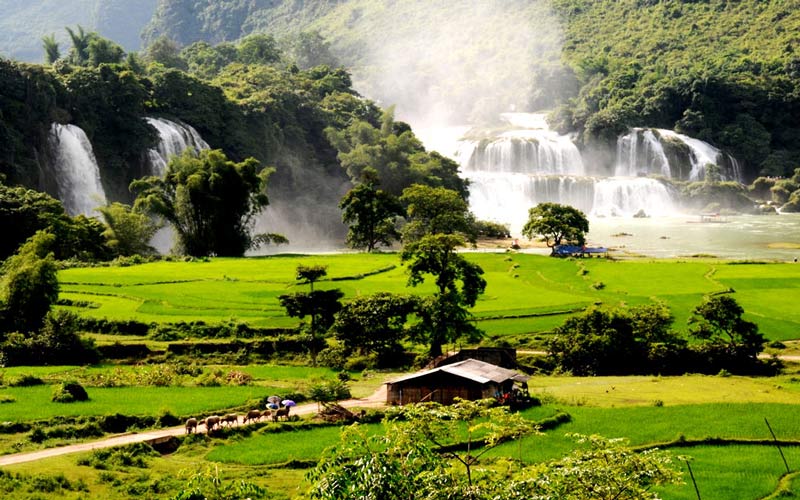 It is estimated that the waterfall can reach 200m, randomly divided into 2 branches, large branches with many high floors flowing through each limestone step. The other branch is small but taller so the waterfall will flow more strongly.
Be mixed with the Que Son River, flows through China and then fans and branches poured into both sides of the two countries. It seems to be adding strength so every summer comes, water from the headwaters flows into the waterfall more and more. It was rumbling and rolling, and from a distance it had heard the sound of a crashing waterfall, frothing white foam.
How to get here.
To come here, tourists can depart in Hanoi by road. Take the Ha Noi – Thai Nguyen – Cao Bang highway. After only 5 hours driving, visitors will come to Cao Bang town and overnight here first.
I can explore this small town on my own with the roasted duck and scented honey.
House prices are extremely cheap and clean, fully equipped.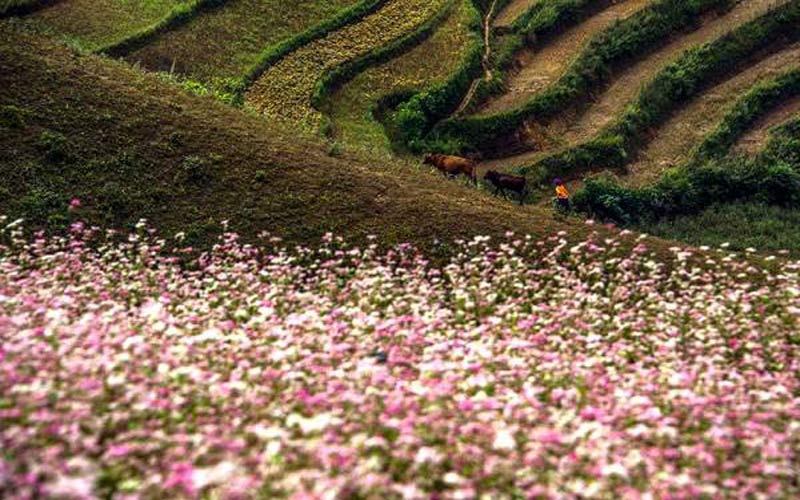 The two sides of the road to the waterfall are rows of wild kneeling daisies, blooming in yellow and fragrant with the smell of the forest.
Besides, the majestic mountains, green forest trees are watered by the white bubbles from this waterfall.
In particular, visitors can zoom views of the cornea flower field or corn field or rice fields. It is also worth saving the pictures for my trip.
Some special noted
From September to the end of December is the best time to come here. This is the time when the waterfall has the most water but it is very clear and has an emerald green color. The dry weather is suitable for activities of visiting the waterfall, canoeing to the center of the waterfall to have the opportunity to see the grandeur of the waterfall.